Condition New

Type Manual powder coating machine

Substrate Steel

Coating Powder Coating

Voltage As local voltage

Power(W) 50W

Certification CE and Certificate of Compliance

Warranty 1Year
COLO-171S box feed powde coating machine can coat different parts very well,such as aluminum rim,bike frame,doors,etc.
COLO-171S Powder Coating Gun
COLO-171S Box Feed Powder Gun
COLO-171S Box feed powder Coating Gun is the world's first "Intelligent". Its patented digital valve control can micro adjust the guns powder output to produce consistent- high quality results.
Delivering a full 100Kv of first pass power, it offers 3 pre-set powder coating gun modes for flat work, complex profiles and re-coat operations. And unlike many other powder coat machines, the CL-171S is fully adjustable allowing for precision adjustments to voltage, amperage, powder fluidization, conveying and dosing air.

Intelligent console also allows you to store up to twenty (20) different powder recipes for all of your most popular coating jobs so you can instantly call them back for use the next time you have more to coat.CL-171S ensures to coat all kinds of metal parts in a perfect coating result.

Components:intelligent 171S console,box feed trolley cart,08 manual gun,K1 powder injector,conductive powder hose,etc all necessary spare parts is included.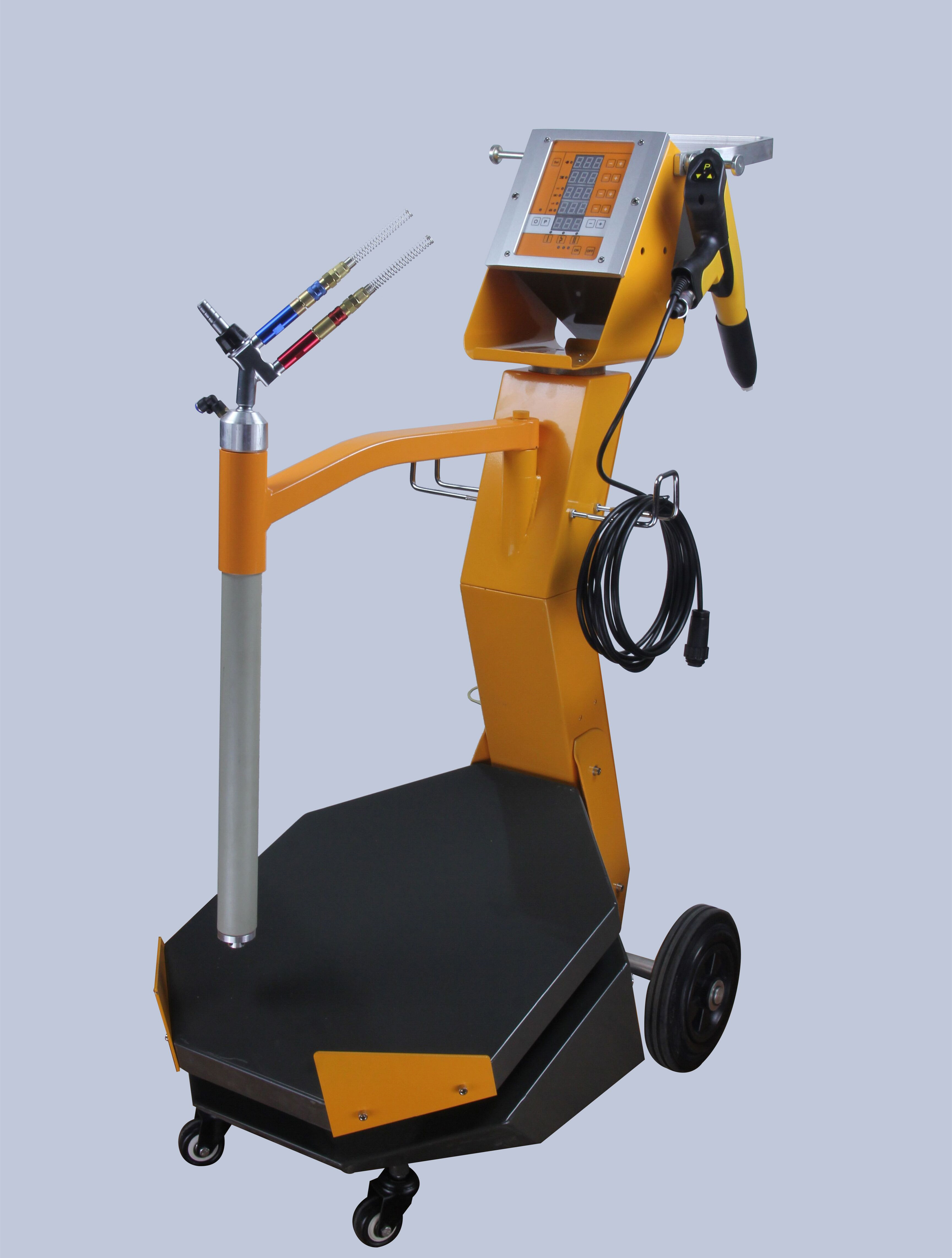 COLO-171S Box Feed Unit
1. Save time to change powder colors.
COLO-171s is box feed type, designed for fast color change,for directly transport the powder coatings from the originla powder box,compelet emptying of the powder box.
2. Efficiently coating process.
Control unit features three pre-grogrammed control options(complex ,recoat,corner mode) when coating diferent shape can choose the coating mode as need.And 20 programmble value settings can be store in the control unit,next time coating same parts no need to adjust the value again.
3.Best coating quality.
Colo-171s is designed for excellent coating powder on various shapes of parts,for work with colo-07gun,can coating a very beautiful parts, even corners.
After Sales Service
1.we are 24 hours on line for email,whatspp,skype,phone,do not worry can find us immediately
2.
All the spare parts for our machines are avaiable include th pcb board,cascade,powder pump/house,powder injectors etc.Because we also have distrubutor to sale our spare parts.
3.Quality of our machine is excellent,so our machine have 12month warrty,if any quality problem appear in that time,we responsible for it.
4.We dedicate to establish a long-term business relations with customer,so we will commited to your satisfactory!
We sincerely wish to establish a long-term business with you.Please feel free to contact us .